Vitamin A Foods
The benefits and best sources












There are many important roles in the body that require vitamin A foods, as this vitamin is an anti oxidant and has hormone like properties.  An important point to remember is that vitamin A cannot be utilised without sufficient zinc and protein.
Vitamin A is fat soluble and therefore is not easily broken down by our body.  This then makes excessive intakes possibly poisonous.
What are the main benefits of vitamin A?
Vision - needed for day time vision but vitamin A makes vision possible in dim lighting (night vision).
Growth and development of cell membranes, especially during pregnancy.
May protect against cancer - especially lung, skin, colon and breast cancers for its involvement in cell adhesion, which is needed to prevent cancer spreading.
Production of steroid hormones such as the male and female sex hormones and stress hormones.
Fertility - needed for sperm production and maintenance of the menstrual cycle.
Bone growth - it is believed that vitamin A helps vitamin D to build fresh bone.
Immune defences - vitamin A is thought to be important in helping to fight viruses.
Blood clotting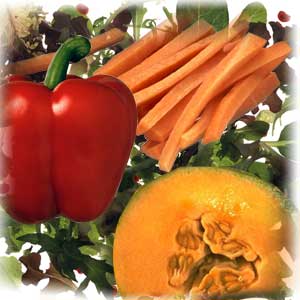 The Best Vitamin A Foods?
Vitamin A is found in foods of animal origin in the form of retinol.  The body also converts beta-carotene, found in plant foods, into vitamin A. 
Food sources of beta-carotene:
Dark green leafy vegetables
Most orange vegetables and fruit such as: carrots, red pepper, pumpkin, sweet potato, cress, endive, kale, romaine lettuce, spinach, watercress, dried apricots, cantaloupe, mango, papaya.
Food sources of retinol:
Liver (the richest source of retinol)
Oily fish such as: mackerel, herring, pilchards and sardines.
Eggs
Dairy (milk, cheese and butter)
The following may contribute to a deficiency of vitamin A:
Alcohol, smoking, tea and coffee, stress and strenuous exercise
Viral infections, measles, gastro intestinal infections
Periods of fast growth
Underactive thyroid
Possible deficiency symptoms:
Night blindness
Eye ulcers
Eye pains, burning and itching
Dandruff
Impotence
Infertility
Mouth ulcers
Poor hair condition
Food intolerances
Gastric ulcers
Infections such as: thrush, cystitis, kidney and lung infections and colds
Is it possible to eat enough to result in a vitamin A overdose?
It is possible to overdose on any vitamin if enough vitamin A foods are eaten but extremely large amounts need to be eaten for levels to be toxic, which is why an overdose is rare.
Vitamin A toxicity symptoms can include:
Loss of appetite
Nausea
Vomiting
Peeling, redness or itching of skin
Hair loss
Headaches
Night blindness